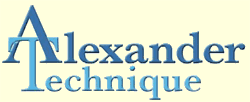 Testimonials
I thank everyone for their kind comments, and the time taken to send them in. Also, I'd like to say that anyone who sticks at learning the Alexander Technique long enough to change their bodies and mental outlook is deserving of admiration. I am proud of many of my pupils, and I'm happy to say that a fair few are now long-term friends.
William wrote.........

The Alexander technique is about HEALTH, through using your body correctly. Rome is an excellent Alexander teacher. Anyone should benefit from her teaching: I have for about 20 years.
Szilvia wrote....

Hi Rome, I feel so good!!! :) my spine is alive! You definetly have healing hands. Thank you very much!
Tamara in Hammersmith wrote....

Thank you so, so much, that was absolutley incredible. For the first time in many many months I went to Tesco's on the way home and didn't have a panic attack, am very happy and as soon as I can I would like to book in some (more) sessions..
Sean in Clapham wrote....

After the first lesson, I felt fantastic, light, lengthened and widened. After the next few lessons I felt better each time but it did seem to be hard work and require much thought. Now, I'm beginning to flow with the learning and feeling fitter and mentally happier.
Paul wrote....

AT IS WHERE IT'S AT

Trying to follow Rome Godwin's initial instructions resulted in negative reactions. For example, in attempting to 'soften the thigh' I would tense up trying to make something happen. Re-learning correct posture after years of bad habits also felt unnatural in the beginning. Slowly however the good feeling of sitting and standing correctly became the norm, and the bad habits became unnatural. The large painful knot of nerves in the back of my neck has disappeared completely, I feel taller, I am more relaxed, my breathing has improved and life feels great. I still have lots to learn from my great teacher Rome.
Lynn wrote....

I have a greater sense of wellbeing since beginning lessons, and the Technique is especially helpful for dealing with stressful situations at work.I had arthritis in my knees for years: after a few lessons my knees have been pain free. The AT training has been of great benefit to me over many years; new patterns have been established which have enabled me to develop a much healthier relationship with my body.
LB, West Kent.
Sue wrote....

For many years I had been aware of my poor posture. Indeed over 40 years ago when I was in secondary school I realised I had a problem standing correctly when I failed to get even one mention for a 'posture badge'. Three teachers had to mention your name as someone with good posture and then you were awarded a posture badge.

By the time I reached my 50th birthday my posture was appalling, and I suffered with back pain. I realised I needed to take myself in hand or end up as a bent up old lady.

I had heard about the Alexander Technique many years previously and even had a taster a few years earlier so decided to give it a try.

I had the luck to stumble on Rome Godwin, who has been a lifesaver for me. When I first started to see Rome and she told me she should be able to change the shape of my body if I stuck with it, I must say I found it hard to believe. She has, however, done just that.

I am unlikely to have perfect posture (although we are still working on it!) but I can now stand tall with my back and neck open and straight - rather than holding my neck back and tense and my back in an S bend shape.

I no longer have backache and if I overdo the heavy work in the garden, I simply lie down in the semi-supine position or do 'the monkey'and get my body aligned again.

I have built Alexander into my life and start the morning with the semi-supine position to get my spine aligned properly before beginning the day.

Rome has given me back a life where I feel I can walk tall with confidence and without pain.
Joanna wrote....

I used to take 12 solpadeines a day: now I no longer need headache pills.
Tessa wrote....

With my own breathing I can now control pain, panic and anxiety in situations.
Mary wrote....

Learning to let go of painful tension and face life with a smile has been a revelation.
Mick wrote....

I really rate Rome Godwin and recommend her highly. I am not a fast learner, but I felt a real benefit from the first lesson. I first visited Rome in early 1996 and she put me at ease from the start. I have enjoyed many lessons since which helped me more than I could ever have imagined at the time. Rome had a good eye for where I was going wrong and constructively pointed me in the right direction. Don't get me wrong, it was no easy ride to start with, but it's amazing how soon my body adapted. I think the hardest thing was to accept my new adopted posture was the right one. My brain was telling me "this is wrong" but the mirror didn't lie.

When I first met Rome I was losing sensation in my hands and was incredibly shaky at the best of times. Having been diagnosed as having Panic Attacks (I never believed this diagnosis) my Dad suggested trying the AT after hearing something about it on LBC radio I think. I really didn't hold out much hope of the AT helping me, but I had to do something.

During my first appointment with Rome, I could feel the blood flowing back into my hands!!!!! Shaky hands became warm and steady. I've never looked back since. Don't make an appointment if you think your part of the session is to lie down and do nothing. You get homework and have to apply the changes yourself. Most of the lesson is interactive, although there is a part of the lesson where you do get a "table turn". As I write this in June 2008, I still visit Rome for a lesson a couple of times a year as a refresher. I don't want to end up in the state I was in in 1995!!! Eek! Thanks for reading.

Update:22nd Oct 2013
Just had a refresher with Rome for the first time in 2 years. Amazing how what I learnt came flooding back and how good I feel now as a result. Hope not to leave it so long until the next time.