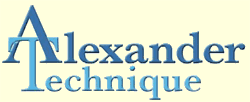 Teaching Practice
Rome gallery
Rome Godwin has been teaching the Alexander Technique since 1991, having been initially trained by Shoshana Kaminitz and having had subsequent professional development lessons with Peter & Ellie Ribeaux. In addition to her practice, she also joins Rika Cohen in Germany in the Spring and Autumn for 4 days intensive CPD workshops with other experienced teachers.
Rome in action
One day in January 2007 a group of Alexander Teachers were asked to give an introduction to 200 medical students in a hospital. We were all in cubicles with the students visiting in batches for a short time and then leaving so there was very little time to do more than just give a couple of examples to each student of ways they could obtain some immediate benefit by a change of direction in their movements. Here is
a minute and a half of this tiny introduction to two of them. Enjoy!

Adobe Flash Player version 9 (or higher) is required to view this video

The origin
F.Matthias Alexander(1869-1955) is the founder of the Alexander Technique. Below are some pictures of the great man at work